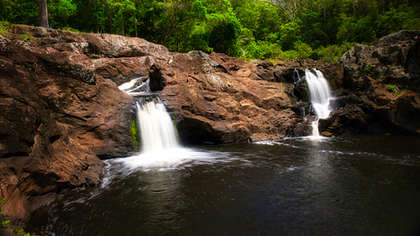 Police in Queensland, Australia have revealed that a father-of-three from Cork died while attempting to save his son when he fell into rapids.
On the afternoon of January 2nd, 49-year-old Cassan Cowman's son slipped and fell into waterfall rapids at Queensland's Wappa Falls in the Sunshine Coast Hinterland. Cassan jumped in to try and rescue the boy, who was pulled from the rapids by bystanders.
Cassan failed to emerge from the water and his body was later found by police divers. His son has recovered following observation at Sunshine Coast University Hospital.
"Emergency Services were called to the location off Pump Station Road around 2pm following reports a man had disappeared after diving in to rescue a child that had fallen into the waterfall area," Queensland police wrote in a statement. "The child was pulled to safety and was transported to Sunshine Coast University Hospital for observation. A search was conducted of the immediate area and police divers located the 49-year-old man's body around 6.30pm."
A GoFund Me page has been established to raise funds for Cassan's three children.
The page describes Cassan, who hails originally from Cork but was a resident of Queensland, as "charismatic, Irish to a fault, enjoyed a whiskey but at the end of the day ultimately he simply loved his family. He was a devoted family man through and through, working day and night to provide for his family."
Cassan had recently moved his family to Queensland's Toowoomba region.