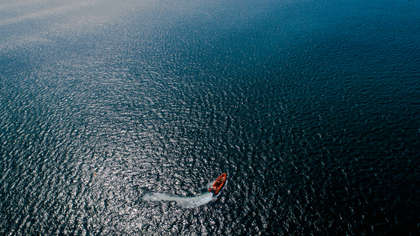 RNLI crews responded to two separate incidents off the coast of West Cork over the weekend.
On Saturday afternoon Baltimore RNLI responded to reports of a boat on fire at Horseshoe Harbour, Sherkin Island.
Led by Coxswain Aidan Bushe, the volunteer crew launched their all-weather lifeboat. The stricken boat's occupants had already been removed to safety when the lifeboat arrived.
Using the burning boat's onboard fire hose, the RNLI volunteers attempted to limit the damage but the boat was beyond recovery. It later sank.
Baltimore RNLI Volunteer Lifeboat Press Officer Kate Callanan thanked those who assisted the volunteers. "There were a number of vessels in the immediate vicinity at the time this fire broke out and Baltimore RNLI would like to thank those who assisted in bringing the occupants of the rib to safety."
Later on Saturday evening it was the turn of Castletownbere RNLI to be called into action.
At approximately 7.20pm they responded to a lone sailor injured aboard his yacht off Bere Island. The sailor suffered injuries to his face and leg after he was propelled forward when his yacht collided with rocks.
RNLI Coxswain Dean Hegarty and his crew arrived on the scene by lifeboat at approximately 7.40pm. The injured man was retrieved from his vessel and received treatment by paramedics at Castletownbere RNLI station.
Castletownbere RNLI Deputy Launching Authority Felix O'Donoghue praised the crew. "The crew are to be complimented for their very swift response this evening and the rescued sailor seemed to be in good spirits when expressing his gratitude."