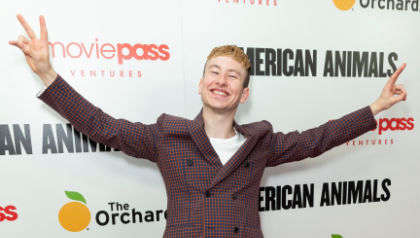 Barry Keoghan has been hailed as a "fantastic role model" for inspiring the next generation of actors.
The Irish actor has enjoyed huge success following his exploits in the Martin McDonagh directed Banshees of Inisherin, which saw him win a BAFTA Award for Best Supporting Actor, and earn an Oscar nomination for the same category.
Life has been far from a bed of roses for Keoghan however, having had to cope with the loss of his mother to drug addiction when he was a child, and being placed in as many as 13 different foster homes along with his brother, before being placed in the care of his grandmother.
Keoghan's former acting school, Belvadere Youth Club have described him as inspiring.
"It's amazing, it's so positive. It's great that the north inner city is out there in the media for positive news for a change, not all the negativity. It's so inspiring", the school's operations manager Gillian Collins said.
"He was a charmer," she continued. "He had the little gift to the gab, the little glint in his eye and was full of energy".
"He was just a normal lad from the inner city who had a dream, and put his head down and worked hard and followed that dream, and he's a fantastic role model. I'm very proud of him".
For several years, Barry Keoghan was a member of the club, starring as Link Larkin in their 2010 production of Hairspray - The Musical, one of his first ever acting roles.
"like a snowball"
As the school prepares for their latest production of the show, Keoghan has also been praised for inspiring a new generation of precocious talent.
"The girls are always interested in dancing and singing, and it's only the last couple of weeks that the boys have shown some sort of an interest", Collins added. "I have a little chap that I just happened to pass by in a corridor and said 'Oh yeah, you got the main part, that's brilliant. You know, (Barry Keoghan) was the main part when we did Hairspray back in 2010 and now he's nominated for an Oscar?' and it was like 'He is?'".
"It's like a snowball has started now and is gathering momentum".
Collins also compared the excitement building from Keoghan's success, to that seen when Kellie Harrington boxed her way to Olympic Gold in Tokyo in 2021.
"Even to be nominated, you're putting yourself out there on the whole world stage – little Barry from the flats, that's amazing", she explained.