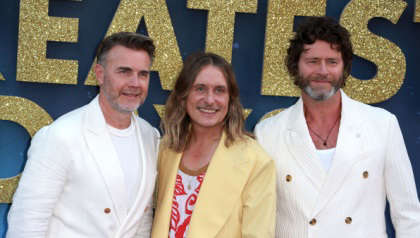 Take That's Howard Donald has admitted that he felt that he was the band's "weakest writer".
Donald who has never released a solo album, unlike his bandmates Gary Barlow and Mark Owen, has said that he felt the pressure to kick things up a level, after Take That signed with EMI for their upcoming 'This Life' album.
"I thought, 'I've gotta come up with something great', so I went off and did co-writes with people I felt comfortable with", Donald said recently. "We brought out stuff to the table, which was a very nerveracking for thing for me, where I've got to be prepared for criticism and I'm not very good at [taking] it".
The musician added, "But luckily, I brought the right songs in. I always feel like the weakest writer out of the three of us".
Despite his admission regarding his alleged writing limitations, Howard Donald has been supported by Gary Barlow, who insisted that his bandmate is the "best version of himself" on this new album.
"By saying he's the weakest, Howard is touching on confidence", Barlow insisted. "If I was going to say anything about this record being different, it's that this is the best version of you I've ever seen".
"You brought the best songs I've ever heard you write".
'This Life' is to be released on November 24.
'This Life', our new single, is out today! 💙 It's about the twists, the turns and the adventure of living.

It was a complex song to record, layering all our vocal harmonies together but we love how happy and uplifting it sounds. https://t.co/wktM65F9LZ pic.twitter.com/bhdQKugPGu

— Take That (@takethat) November 3, 2023
Take That have been working as a trio since 2014, following the departure of Jason Orange, with no plans for Orange or Robbie Williams to return anytime soon.
"We're in a good place at the moment. We're already working on music for next year. It feels natural", Barlow insisted.
The singer/songwriter had previously hinted that door for a Williams or Orange return still remains open.
"The one thing I keep hearing is that Take That are coming back but there's no Robbie and Jason", he said. "Robbie hasn't been in the band since 2011 and Jason left in 2014".
"We've always said they're welcome to join us but we've done about 600 shows since they were around", he added. "We're a three at the moment and we're doing OK".