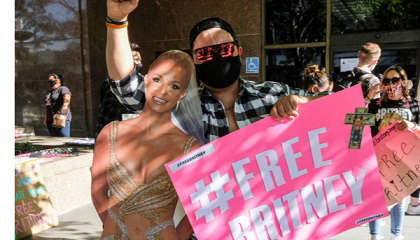 Britney Spears has paid a special thank you to the #FreeBritney Movement which helped draw people's attention to her conservatorship which saw her father Jamie Spears control her affaires since 2008.
This ongoing battle to end a conservatorship which Britney described as "abusive", hit a huge developmet last week when it emerged that Jamie Spears agreed to step down as his daughter's co-conservator.
A temporary conservatorship has been set up and is headed by John Zabel. Zabel, an accountant was also selected by Britney's legal team.
"I have no words"
In an emotional tweet posted earlier today, Britney Spears wrote, "I have no words… because of you guys and your constant resilience in freeing me from my conservatorship… my life is now in that direction".
Alongside a video in which she truck several poses soundtracked by Kanye West's "The Life of Pablo cut "Fade", Spears also added,"I cried last night for two hours cause my fans are the best and I know it".
Spears also wrote in another tweet, "I feel your hearts and you feel mine… that much I know is true".
#FreeBritney movement … I have no words … because of you guys and your constant resilience in freeing me from my conservatorship … my life is now in that direction !!!!! I cried last night for two hours cause my fans are the best and I know it … pic.twitter.com/7OpsOKoHNc

— Britney Spears (@britneyspears) October 4, 2021