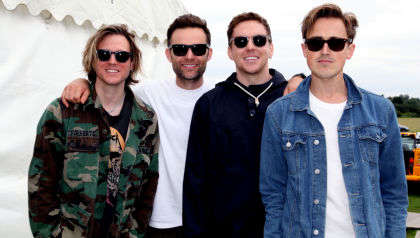 McFly have hailed Lewis Capaldi as the new Bon Jovi.
The pop band who include band members Harry Judd, Tom Fletcher, Danny Jones, and Dougie Poynter, drew this comparison between the pair, as they prepare to support Capaldi for a set of outdoor shows, which will include taking to the stage at Belfast's Boucher Road Playing Fields, as part of Belfast Vital 2023.
"Bon Jovi was today's Lewis Capaldi!"", singer-songwriter Danny Jones said. The other band members also insisted the opportunity to support the 'Someone You Loved' singer was too good to miss.
"I'm a huge fan. He's an absolute dude. I can't wait", said Dougie Poynter. "When we got those shows confirmed I was like, 'Wow that's one of the most exciting things I've heard in ages".
"We don't often do supporting slots because we don't get the right opportunities. This is an incredible opportunity", he added.
"community"
Along with supporting Capaldi, McFly are also set to release their new album 'Power To Play'.
Speaking about the album, Danny Jones outlined the band's plans to grow their "community".
"The community that the McFly fan base brings is so cool, and the friendships they make are massively important", Jones explained. "We can already see certain songs and certain lyrics that fans will connect to the most".
McFly plan to release this album at a special show in Camden's Underworld on June 8.