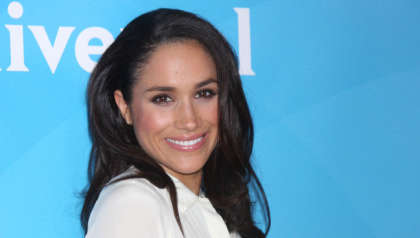 Meghan Markle told reporters that she is thrilled to be back in Hollywood, after appearing on the red carpet at the Variety Power of Women event in Los Angeles this week.
Appearing at the event yesterday (November 16), the Duchess of Sussex attended the event, which recognises the accomplishments of women in showbusiness.
Markle was joined on the red carpet by actresses Margot Robbie, Carey Mulligan, Emily Blunt and singer Billie Eilish
The former Suits star set up a company, Archewell Productions with her husband Prince Harry. The company has overseen several documentaries, including one made about their life.
"We have so many exciting things on the slate," Markle said on possible future projects. "I can't wait until we can announce them, but I'm just really proud of what we're creating. My husband is loving it too, which is really fun".
"I think the more we support each other it just amplifies the work, amplifies our community and I'm just thrilled to be back in it and to be able to sit in this room and be in such good company tonight".
On the night, Emily Blunt received the Power Of Women alumni award for her "dedication to helping children overcome stuttering through education resources".
"It is a disability that lives very often in the shadows alongside its great friends - fear, shame, and humiliation", Blunt said in her subsequent speech. "A stutter is like an imposer that is living in your body that doesn't pay rent, ever".
Barbie star Margot Robbie scooped up the producer of the year award, alongside her husband Tom Ackerley, and producer Josey McNamara, for their company, LuckyChap Entertainment.
"I don't have much of a voice right now but we really believe (in) people with original ideas and original voices, people like Emerald (Fennell) with Saltburn and Greta (Gerwig) with Barbie", Robbie said. "They are both such visionary directors with such original voices and they had such an original take on the story they wanted to tell and committing to that on the side of it coming out can seem scary, but when you do, amazing things happen".
Lily Gladstone was also recognised at the event for her tireless work for advocating indigenous women's rights.
Leonardo DiCaprio who co starred alongside Gladstone in Martin Scorsese's Killers Of The Flower Moon, paid homage to the actress.
"I fervently hope we're entering a new era in which actors like Lily, who embody this authenticity and undeniable truth in their own storytelling, take centre stage", the Wolf Of Wall Street said.