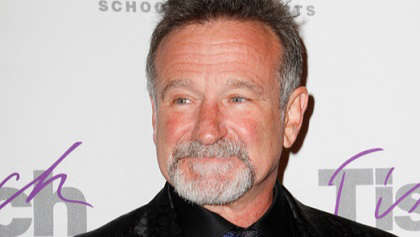 Robin Williams' son paid tribute to his father yesterday, on what would have been the actor's 70th birthday. Robin Williams was died from suicide in 2013 aged 63.
The actor and comedian was known for starring in films such as Mrs Doubtfire and Good Will Hunting.
Williams was later diagnosed with Lewy body dementia after his death. Described by his wife Susan Schneider as the "the terrorist inside my husband's brain", it had been originally misdiagnosed as Parkinson's Disease.
Symptons can include being drowsy, hallucinations, slower movement and confusion. This can lead to people having difficulty with regular activities and can eventually lead to them being unable to look after themselves.
"Incredible spirit still lives with us"
Yesterday, Robin's eldest son Zak paid an emotional tribute to his father via Instagram.
"Dad, on what would be your 70th birthday, I would want you to know that your incredible spirit lives within us", he wrote.
"Our family will be celebrating you and your memory today. We miss you and love you always!".
"Hard for him"
Zak also recently appeared on the Genius Life podcast, where he spoke about his father's death. He also spoke about the frustration felt by him and his father following his Parkinson's misdiagnosis.
"What he was going through didn't match one to one (with what) many Parkinson's patients experience", he said. "So, I think that was hard for him".
He continued, "There was a focus issue that frustrated him, there were issues associated with how he felt and also from a neurological perspective he didn't feel great. He was very uncomfortable".
Zak also questioned the medication that his father was prescribed. He believes it could possibly have led to his death.
"Those drugs are no joke", he said. "They're also really hard on the mind and the body".
Zak himself is also an advocate for mental health. He revealed that he himself was diagnosed with Post Traumatic Stress Syndrome after visiting a psychiatrist, while he was dealing with his father's death. Zak also revealed that he had been drinking heavily following his father's passing.
"I was heavily drinking to manage my mental health where it created very harmful issues", he said. "For me personally, I was having health issues".
"I was experiencing some psychosis and when I spoke with a psychiatrist I was diagnosed with Post Traumatic Stress Disorder", he added.
Zak also said that group therapy and a 12 step program aided his recovery.