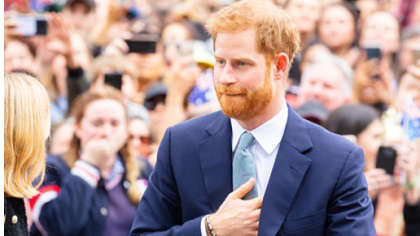 A royal expert has said that the palace are worried about who is going to be in the firing line in Prince Harry's upcoming memoirs.
It has been reported that American "power ghostwriter" J.R Moehringer has been working with the Duke of Sussex to give a "wholly truthful and accurate" about his life.
"Not as a prince I was born, but as a man"
Prince Harry released a statement, confirming the release of his upcoming memoir.
"I'm writing this not as the prince I was born but as the man, I have become", he said.
The Duke of Sussex netted a reported £14.5 million in advance of releasing this memoir. He said that all profits will be donated to charity after its release in 2022.
"tsunami of fear"
A source told the Daily Mirror that news of this upcoming life story has set off a "tsunami of fear" among the royal circles.
Royal expert for the paper, Richard Kay questioned who will come into the firing line in this book.
"So who might be in the firing line? Insiders fear the targets could include Charles, William, Camilla and the institution itself. 'He is unlikely to criticise his late mother or his grandmother the Queen,' is the view of one courtier. 'But for everyone else it's tin-hat time", he wrote.
This also comes after Prince Charles grew "concerned over Harry's chosen path" after Prince Harry announced he was working on his memoirs.
Insiders have also said that this book will reveal intimate details of Prince Harry's experiences in the royal family. Friends of Prince Charles have claimed that Prince Harry appears "bizarrely hellbent" on trashing his father's reputation. A reputation which Charles has fought hard to restore following his divorce from Princess Diana.
The as of yet untitled memoir is expected to be released some time next year.