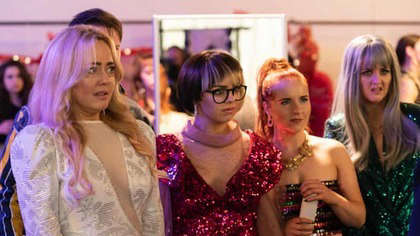 Here's our guide to the new movies opening in Irish cinemas and on Home Entertainment platforms this week.
The Addams Family 2 [Cinemas]
Everyone's favourite monster family (unless you prefer The Munsters) returns in this animated sequel. This one sees the Addams take to the road in a camper van as they attempt to bond as a family.
Apache Junction [VOD]
Stuart Townsend stars in this western in which a notorious gunslinger comes to the aid of a threatened journalist in a lawless town.
Bad Candy [VOD]
A pair of small town radio shock jocks tell six tales of terror to their late night audience in this Halloween themed horror anthology.
Deadly Cuts [Cinema]
The staff of a Dublin hair salon take the law into their own hands when they find themselves up against a local criminal gang. The Commitments' Angeline Ball leads the cast of this riotous caper.
The East [VOD]
Dutch war movie set during the Dutch military's crushing of Indonesia's bid for independence. A young soldier questions whether he's on the right side when he is assigned to a unit led by a brutal captain.
The Father of the Cyborgs [Cinemas]
Documentary tells the fascinating story of neurologist Dr. Phil Kennedy. In the late '90s he implanted electrodes in the brain of a paralyzed patient and taught his subject how to control a computer using only his mind. He would later continue his experiment on himself.
Fever Dream [Netflix]
In this eerie Chilean thriller, two women form a bond as one convinces the other of a looming environmental catastrophe.
Grudge [Netflix]
Turkish thriller sees a newly promoted police chief leading a murder investigation. What his colleagues don't realise is that he's the killer.
John and the Hole [VOD]
A sociopathic 13-year-old traps his family in a deep hole in the ground. Maybe don't watch this one with your kids or they might get ideas.
The Man Who Sold His Skin [Cinemas]
To help with his escape from Syria, a young refugee agrees to let a world famous tattoo artist use his body as a canvas. He finds himself in trouble when wealthy art collectors become obsessed with own the artwork his flesh bears.
Meander [VOD]
An abducted woman wakes up in an elaborate tunnel system with a countdown timer attached to her wrist. As the walls begin to close in on her she must find a way out before she runs out of time.
My Brother, My Sister [Netflix]
A pair of estranged adult siblings are forced to live together to satisfy the conditions of their father's will. Can they finally put their differences aside and become the family their father always wanted?
My Little Sister [Cinemas]
More sibling drama in this Swiss film. A woman takes her terminally ill brother into her home, rekindling their affection but causing problems with her own family and her career.
Night Drive [VOD]
An Uber driver falls for a seductive passenger who asks her to drive him to a series of locations around the city. He comes to learn that he's unwittingly become an accomplice to a dangerous criminal.
No Sudden Move [VOD]
This crime thriller form acclaimed filmmaker Steven Soderbergh is set in 1950s Detroit. A gang of criminals are hired to pull off a heist. When it goes drastically wrong they seek out those who doublecrossed them and uncover a conspiracy involving the American car industry.
Ride the Eagle [VOD]
Following his mother's death a stoner inherits his family's log cabin. But on arrival he finds his mother has left a series of tasks for him to complete.
Sweetheart [Cinemas]
A teenage girl is none too happy about being dragged away for a family holiday. That is until she falls for the resort's lifeguard.
There's Someone Inside Your House [Netflix]
A group of teens try to identify the masked killer responsible for murdering students at their school and exposing their secrets.