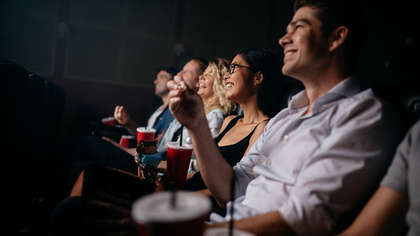 Here's our guide to the new movies opening in Irish cinemas and on home entertainment platforms this week...
A Classic Horror Story [Netflix]
This Italian horror movie plays on the tropes of the genre as a group of strangers fight for survival in the backwoods of rural Italy.

The Birthday Cake [VOD]
While attending his uncle's birthday party, the son of a murdered mobster begins to connect the dots around who is responsible for his father's death. Ewan McGregor and Val Kilmer star.

Black Medicine [VOD]
This Irish thriller stars Antonia Campbell-Hughes as a doctor who tops up her income by performing secret surgeries on injured gangsters. When she stumbles across a teenage girl (Amybeth McNulty) in trouble, she finds herself at a moral crossroads.

The Croods 2: A New Age [Cinema]
Nicolas Cage returns as the voice of the patriarch of a family of nenaderthals in this animated sequel. This one sees the Crood family adjusting to their new affluent neighbours. Emma Stone and Ryan Reynolds also feature among the voice cast.

Deep [Netflix]
This horror movie from Thailand sees four insomniac students take part in a sleep study. But they find they're guinea pigs in a sinister experiment.

Deerskin [Cinema]
French filmmaker Quentin Dupieux is known for movies with bizarre plotlines, and they don't get much weirder than Deerskin. The Artist's Jean Dujardin plays a man who becomes obsessed with a mangy deerskin jacket he buys second hand. When he begins to hear the jacket speaking to him, he embarks on a killing spree.

Escape Room: Tournament of Champions [Cinema]
This sequel to the 2019 thriller sees the survivors of previous deadly escape rooms thrown together to face the deadliest set of escape rooms yet. File under "should have been a video game."

Fear Street Part Three: 1666 [Netflix]
Netflix's horror trilogy concludes by taking us back to 17th century colonial America where a young woman is accused of witchcraft. Features the worst Irish accents since Tom Cruise in Far and Away.

The Forever Purge [Cinema]
Fifth instalment of the ongoing Purge series. This time the Purgers have decided that one night of mayhem a year just isn't enough, plunging the US into permanent chaos. It's the same old survival story though, as the franchise stretches its premise to breaking point.

The Guide to the Perfect Family [Netflix]
This French-Canadian comedy follows a social-media obsessed couple as they contend with parenthood.

High Ground [VOD]
Australian western in which a young aborigine teams up with an ex-soldier to track down his uncle, who is responsible for a series of crimes in the outback.

Horizon Line [Amazon Prime Video]
This sky-high survival thriller sees a pair of estranged lovers forced to work together when the pilot of their private jet drops dead in mid-air.

Nina Wu [MUBI]
Arguably the most interesting of the recent movies to address sexual harassment, this Taiwanese thriller sees an actress haunted by a decision to compromise herself in order to win a coveted role.

Nowhere Special [Cinema]
When a single father learns he only has six months to live, he searches for a new family for his son.

Space Jam: A New Legacy [Cinema]
Sequel to the 1996 basketball meets animation comedy. This one sees Lebron James star alongside Bugs Bunny, Daffy Duck and a host of classic Looney Tunes characters.

Summer of Soul [Cinema]
Known as the "Black Woodstock", the Harlem Cultural Festival saw the cream of African-American musical talent come together for a six-week festival in the summer of 1969. This documentary boasts a host of previously unseen performances from the likes of Stevie Wonder, Nina Simone and BB King.

The Toll [Shudder]
An Uber driver and his female passenger grow distrustful of each other when they find themselves stranded late at night on a country backroad.

Two of Us [Cinema]
This French romance is a rare lesbian drama with older protagonists, chronicling the secret decades-long love affair between two women now in their seventies.

The Witches of the Orient [Curzon Home Cinema]
This documentary explores the legacy of the 1964 Japanese Olympic Women's Volleyball team, who revolutionised the sport with their then unconventional tactics.