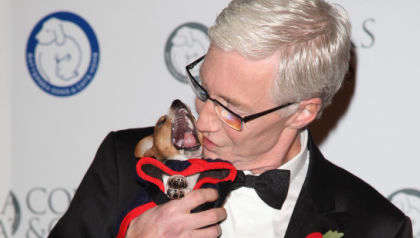 In light of the sad news of his death, tributes have been paid to Paul O'Grady.
Paul O'Grady died last night aged 67 "unexpectedly but peacefully", according to his partner Andre Portasio.
"He will be greatly missed by his loved ones, friends, family, animals and all those who enjoyed his humour, wit and compassion", Portasio said. "I know that he would want me to thank you for all the love you have shown him over the years".
Tributes have since been paid to the late presenter and comedian, who was known for his drag queen alter ego Lily Savage, along with winning a National Televsion Award for his Channel Four chatshowm The Paul O'Grady Show among other things.
Such things include his close working relationship with Britain's Queen Consul in their support of Battersea Dogs and Cats Home.
They called him a "devoted animal lover" and a champion for the underdog".
Musicians and household names including Elton John, Vernon Kay, Lorraine Kelly, Carol Vorderman, Martin Kemp, Gabby Roslin, Paddy McGuinness among others also shared emotional posts, paying homage to O'Grady.
Check out these tributes below.
Paul O'Grady let me stand in for him on his chat show over 15 years ago. He was always supportive, kind and just great to be around. Paul started in the pubs and working men's clubs but finished has an icon of British TV. I'll miss him very much. Rest in peace Paul. pic.twitter.com/uFNxC6n17d

— Paddy McGuinness 💙 (@PaddyMcGuinness) March 29, 2023
Such sad news. Paul O'Grady - funny, fearless, brave, kind and wise. Will be sorely missed. A really special man.

— Lorraine (@reallorraine) March 29, 2023
Paul O'Grady
🖤
Already giving them raucous, ripping up the rulebook, mischief making, calling it out, loving hell in heaven

Paul, what are we meant to do without you?
💔

— Carol Vorderman (@carolvorders) March 29, 2023
Paul O'Grady was one of the nicest and kindest people I've ever met. Always a joy to be around and obviously, so much fun. He will be missed. Telly and friends have lost one of the best….RIP❤️

— Vernon Kay (@vernonkay) March 29, 2023