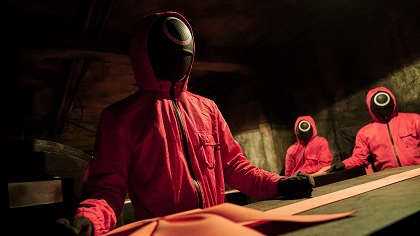 A Korean woman received a deluge of calls after her phone number was featured on Netflix's runaway hit show Squid Game.
It seems everyone is hooked on Squid Game, the Korean show that became Netflix's surprise hit in recent weeks. But an unnamed businesswoman from Seongju, southeast South Korea, isn't so happy with the show's popularity.
One episode of the show features a phone number, but what the show's creators didn't realise is that the number they used corresponded to a real Korean phone number.
Upon airing of the episode the woman began to receive calls from people asking "to play Squid Game." She said it quickly got "to the point that it's hard for me to go on with daily life."
"This is a number that I've been using for more than 10 years, so I'm quite taken aback," the woman said. "There are more than 4,000 numbers that I've had to delete from my phone. At first I didn't know why, but my friend told me that my number came out in Squid Game and that's when I realised."
Korean sources claim that Netflix offered the woman compensation of 5m won, which is roughly €3,600. The woman turned down Netflix's offer. It's unknown whether she intends to take legal action against the streaming giants.
Netflix has confirmed that it will edit the phone number out of the show and has pleaded with fans to stop calling the woman.
"Together with the production company, we are working to resolve this matter, including editing scenes with phone numbers where necessary," Netflix said in a statement.
Movies and TV shows usually take great care to ensure any phone numbers used are purely fictional. In America any phone number in a movie or TV show begins with the digits "555", leaving no possibility of it being mistaken for a real number. Here in Ireland the Commission for Communications Regulation (ComReg) provides production companies with fictional phone numbers employing the format 020-91X-XXXX.
In Korea, film and TV productions are provided with fake numbers to use by the Korean Film Council. If someone calls the numbers seen in Korean productions they are greeted with a recorded message saying "This is a phone number for screen exposure provided by the Korean Film Council." Somebody appears to have slipped up this time however.
In an interview with Korean media, Squid Game's director Hwang Dong-hyuk seemed to accept responsibility for the gaffe himself.
"I wrote it because it was a safe number, but the production team did not predict that 010 was automatically attached," Dong-hyuk said. "Sorry for not checking till the end. We apologize to those who have been affected."
Squid Game arrived on Netflix in September with no promotion but quickly began to find an audience. Within 10 days of its release it had become the most watched show on the service in 90 countries. It's currently on course to overtake The Crown and Bridgerton as Netflix's most watched show ever.
The show features a fictional TV game show called Squid Game, in which contestants who find themselves in heavy debt are invited to compete in a series of gruesome challenges for a top prize equivalent to around €30 million.
Director Hwang Dong-hyuk confessed to being overwhelmed by the show's popularity with audiences across the globe.
"We did target a global audience from the start, but this fever wasn't anything I had expected. I mean, who could have?" he said.