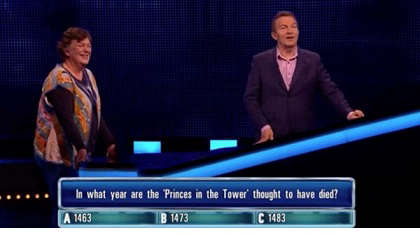 Popular TV host Bradley Walsh was left fuming at the difficulty level of a question during a recent episode of his show The Chase.
Walsh felt that one of the questions (pictured) was too difficult and unfair and the presenter did not hold back on letting his feelings be known on the subject.
The show's contestant Jill was asked the following question, "In what year were the princes in the tower thought to had died?", with the possible answers being A. 1463, B. 1473, or C. 1483.
Walsh felt that question was far too difficult due to the small gap between each of the years given as possible answers.
"What sort of a question is that? Give us a chance! You could have said 1363, 14 something and 15 something!", Bradley complained. "Give us a bit of a chance, they're right next door to each other, what chance we got?".
Jill unfortunately went on to get the question wrong, picking A 1463, when in fact the correct answer was C 1483.
Unsurpsingly, the chaser Shaun Wallace got the correct answer. Impressive!
What were your thoughts on the question?