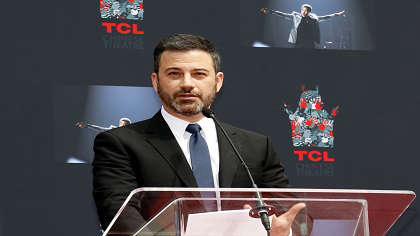 Jimmy Kimmel will return as the host of next year's Academy Awards.
This will mark the comedian and talk show stars fourth turn at the Oscar gig.
"I always dreamed of hosting the Oscars exactly four times," Kimmel said in a statement announcing his return.
Kimmel first hosted in 2017, the infamous year that saw La La Land mistakenly announced as winner of Best Picture when the coveted gold statue was in fact meant for Moonlight.
He also hosted this year's awards, getting big laughs for his jokes about 2022's "slap gate" when Best Actor winner Will Smith assaulted comedian Chris Rock live on stage after a joke about Smith's wife.
"Five Irish actors are nominated tonight, which meant the odds of another fight onstage just went way up," Kimmel quipped in his opening monologue.
He followed up later: "At this point in the show, it kind of makes you miss the slapping a little bit, right?"
The 96th Academy Awards will take place on 10th March 2024 at the Dolby Theatre in Hollywood.
Voting from Academy members has not yet opened, but early favourites for multiple wins include Greta Gerwig's Barbie, Christopher Nolan's Oppenheimer and Martin Scorsese's Killers of the Flower Moon.