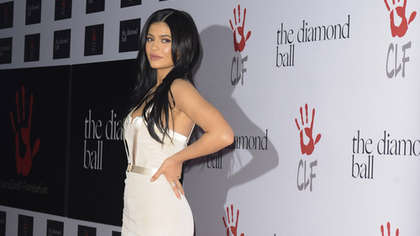 Kylie Jenner's fans are threatening to turn away from the billionaire following reports of the "horrific" conditions at her cosmetics company's factory.
On Thursday the 23-year-old model took to Instagram to launch a revamp of her Kylie Cosmetics makeup line.
The post attracted negative attention from Jenner's usually adoring fans, who accused her of trying to distract from a damning report of working conditions at her California factory.
"Using your rebrand to distract us from Kylie Cosmetics workers saying they're been treated like garbage???" one angry follower wrote.
"I'm so done of this woman," another fumed.
Jenner first launched her makeup range back in 2015 under the brand name 'Kylie Lip Kits by Kylie Jenner' before rebranding as 'Kylie Cosmetics' in 2016.
Jenner's products were manufactured at Spatz Laboratories in Oxnard, California. The reality star would regularly visit the factory, posting videos of her trips to her social media platforms.
The reality of working at Spatz was revealed by a pair of former employees who spoke to The Sun about conditions at the plant.
Speaking about Jenner's factory visits, 32-year-old Irene Lopez told of how workers were instructed not to engage with the star.
"You are not allowed to talk with them, you guys are supposed to keep on working, you guys are not allowed to take any pictures or ask any questions," she told the British tabloid.
"We had to be quiet and continue working. They would come around and just watch us on the machines or filling up the makeup tubes. They wouldn't talk to us, they never talked to me. They would talk to the leads and just walk around and look at everything."
Martha Molasco worked at the factory between 2015 and 2017. The 31-year-old corroborated her colleague's story, saying employees were forbidden from even making eye contact with Jenner.
"Supervisors would say, 'Don't talk to them, don't even look at them," she told The Sun. "It was messed up. We were doing her product and we couldn't talk to her. We couldn't see her. If we're doing her product and all the work is on us, she should be aware of it."
Lopez described feeling "degraded" while working at Spatz, where employees were expected to meet demanding quotas of up to 1,200 products per day.
"The supervisors I had there had been very degrading towards everybody. Everything had to be perfectly made and if it wasn't they would throw it away in your face like it was trash. If you didn't go fast enough, you were going to get fired," she revealed. "When I first started, two months in, I wasn't going as fast as they wanted me to. They would get in my face and say, 'You're not going fast enough, you're not going fast enough."
Lopez said she would often go to the bathroom in a state of tears while at work.
The ex-employee complained of only receiving "five minutes" worth of training before being expected to perform her tasks. She claimed her supervisors were dismissive of any questions she had.
"When you did ask questions, you were kind of degraded. It seemed like every question you asked was a stupid question. How are you going to learn if you don't ask questions?"
Molasco claims she was never offered a raise during her time at the factory, remaining on minimum wage for the duration of her stay. She told The Sun she regularly received verbal abuse from her superiors and was made to work 12 hour shifts without a seat.
"With the verbal, on top of the 10 to 12 hour shifts, a lot of people ended up quitting or leaving because it was just too much," she said. "At the beginning it was slow, our regular hours were 4 pm to 12 am. When it started to pick up, it was 4 pm to 4 am. We were getting paid overtime, but it wasn't worth it because they would push you to the limit."
Lopez believes Jenner was well aware of how the women working on her products were treated.
"It's not like she didn't see what the conditions were."
An unnamed source defended Jenner, claiming neither she nor her mother, Kris Jenner, had given any instructions to factory heads regarding their visits.