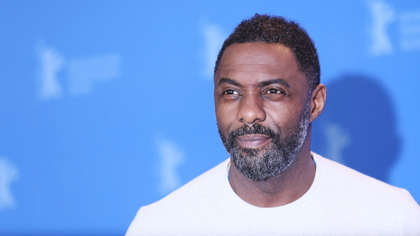 Idris Elba is to reprise his role as Detective Chief Inspector John Luther for an upcoming Netflix movie.
Netflix have teamed up with BBC for a feature length continuation of the detective drama.
The show's creator Neil Cross has penned a script for the film, which is now set to begin shooting in November. Director Jamie Payne, who directed the entirety of the show's final season, returns behind the camera.
Joining Elba are actress Cynthia Erivo, who plays a fellow detective teasingly described as Luther's "nemesis", and Andy Serkis as a criminal who comes up against Luther. It hasn't been confirmed if Ruth Wilson will reprise her role as serial killer Alice Morgan, the show's main villain and Luther's romantic interest. Morgan appeared to die at the end of the most recent season, but the character has been brought back from the dead once before, so anything's possible.
"Well, I wouldn't like to say," Wilson previously said of Morgan's fate. "I don't know how someone could survive that fall, so that's my thought. But then you don't see the body. So I don't know."
Neil Cross hasn't ruled out following the feature film with another full season of the show, should it prove a hit with Netflix subscribers.
"All we've ever wanted to do is, within the parameters that we're given, make the best possible show," Cross said. "What we've been able to do [with the movie] – having delivered every episode of Luther on budgets which are comically small – is to have a wider canvas. And we've really been given the opportunity – while staying entirely true. I mean, Idris and I have shared this character for more than 10 years. And the key aspect of this whole conversation is primarily, how do we stay true to Luther?"
The most recent season of Luther concluded with the titular detective being arrested. When asked where the series would take his character next, Elba said it's "hard to say."
"I feel like John has to make some decision in jail," Elba reflected. "It's quite clear that it would be very difficult for him to be a policeman moving forward. I think that's a great setup for a movie. The last few seasons have been more like mini-movies, and film allows us to now have more dramatic moments that are slightly more compressed and it's a bigger but smaller dose of Luther."
Luther first aired on BBC back in 2010 with the fifth and most recent season airing in 2019. Elba's acclaimed performance in the title role has seen him awarded with a Critics' Choice Television Award, a Golden Globe Award and a Screen Actors Guild Award over the course of the series' run.
Show creator Neil Cross describes his creation as a cross between Sherlock Holmes and Columbo. Unlike most detective shows, which follow a whodunit format, Luther follows the lead of Columbo in clueing the audience in to who the villain is from the start. The fun then comes from seeing how Luther will solve the puzzle and crack the case.
Elba has long been touted as a possible successor to Daniel Craig in the role of James Bond. But now 49, and with such lengthy gaps between Bond movies, it's unlikely the producers would opt for an actor of his age. With a Luther feature film, it seems Elba may be doubling down on his own iconic character instead.

Luther is coming back!

Idris Elba will reprise his iconic role — joined by Cynthia Erivo and Andy Serkis — in a new feature film written by series creator Neil Cross. pic.twitter.com/DLJn2EDPvi

— Netflix (@netflix) September 13, 2021