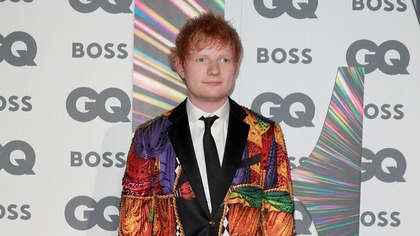 British singer-songwriter Ed Sheeran was the big winner at Sunday night's MTV European Music Awards.
Held in Budapest, this year's ceremony was billed as a celebration of the LGBT+ community.
With last year's ceremony held virtually due to the pandemic, the 2021 edition marked a return to an in-person event.
Sheeran arrived on the red carpet wearing an eye-catching psychedelic suit before opening the ceremony with a live performance.
On the red carpet, Yungblud, who later closed the ceremony, revealed he had been "partying all weekend" with Sheeran.
"I played pool with Ed Sheeran last night, it was cool but he beat me two-one," Yungblud said. "It's so sick to have artists come together not only to play music but just to have a laugh."
Rising star Grif said she travelled to the event on Sheeran's private jet, enjoying a game of monopoly cards on the flight.
"My manager just told me a week ago, 'Ed's offered to give you a lift'. It was crazy," she said. "He's a lovely guy. We played Monopoly cards, he's really good at it. He won."
Sheeran opened a fur-lined car boot to receive the Best Artist award before also scooping the Best Song award for Bad Habits.
His pool-playing buddy Yungblud received the Best Alternative award, which he called a "tribute to individualism."
Yungblud spoke of being "terrified" as a youngster and encouraged young people to be themselves.
"If you are out there and you feel you cannot be who you are - you can be," he said. "Keep fighting, keep being brilliant."
The all-star awards show was hosted by American rapper Saweetie, who emerged wearing a bikini, relaxing in a mock-up of one of Budapest's famous spas.
Addressing the ceremony's theme of acceptance, Saweetie said it's "always important we respect each other. That's why it's so important we stand up for the LGBTQ+ community."
The sentiment was echoed by Years and Years singer Olly Alexander.
"They all support same sex adoption as family is family," Alexander said of the nominees for Best Video as he presented the award, which went to Lil Nas X for the promo for Montero (Call Me by Your Name).
The rapper accepted his award via a pre-recorded video message, joking that he couldn't make it to the show as he had to "work his shift at Taco Bell."
Budapest was a controversial choice for the ceremony, given its recent passing of anti-LGBT+ legislation.
South Korean boyband BTS scooped four awards – Best Pop, Best K-Pop, Best Group and Biggest Fans.
Despite having eight nominations, more than any other act, Justin Bieber failed to land a single award.
German singer Kim Petras made history by becoming the first transgender star to perform at the EMAs.
"I often run into songwriters who are like, 'The most creative thing you can do is tell the truth'," Petras told The Sun. "I don't like this idea that the only music which is art and is important is this music which is full-realism. I think it's boring. If I just wallowed in all my demons, I would be more depressed than I am. Pop music is an antidepressant for me. When I hear the catchiest thing in the world I get so happy."
Beating out Foo Fighters and Coldplay, Eurovision winners Maneskin won the Best Rock award.
Host Saweetie was an award winner herself when she was presented with the Best New gong.
"This is just the beginning," she said of her career and thanked her fans for supporting her "since I was rapping in my car."
Northern Irish singer JC Stewart called it a "dream come true" to attend the ceremony after busking outside the EMAs in Belfast a decade ago.
"It's pretty crazy, it's a dream come true for me - I busked outside the EMAs 10 years ago in Belfast so I never thought I'd be here today," he said. "It's all a bit much in a lovely way."