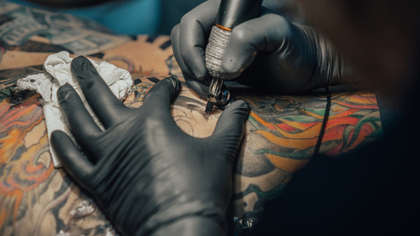 Tattoo ink containing chemicals that may cause cancer has been banned by the EU.
"The restriction covers carcinogenic, mutagenic and reprotoxic substances, chemicals prohibited in cosmetics, skin sensitisers, skin and eye irritants, metal impurities, aromatic amines and some pigments," the European Commission said in a statement. "
"The protection of public health of European citizens is our primary concern, and hazardous chemicals in tattoo ink can represent such a concern," said commission spokesperson Sonya Gospodinova.
Such a ban had previously been enforced in Belgium, France, Germany, the Netherlands, Spain, Slovenia and Sweden.
All 27 EU member states have now agreed to the ban, which will also apply to imports from outside the union.
"Where there are currently no substitutes there is a grace period so the industry has time to find alternative solutions," confirmed commission spokesperson Eric Mamer.
The European Chemicals Agency warned that tattoo inks can contain chemicals that cause "skin allergies and other more serious health impacts, such as genetic mutations and cancer."
"As chemicals used in tattoo inks and permanent make-up may stay in the body for life, there is also the possibility for long-term exposure to the potentially harmful ingredients," the agency said.